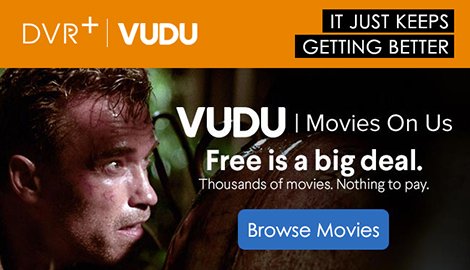 Some good news for people missing Hulu's ad supported offering.  Login with your Vudu (or Walmart.com) email address, and you can start enjoying ad supported movies on Vudu.  If you do not have an account, you can sign up with an email address — apparently any email address as there is no verification.  Also, there is no need to provide a payment method.
According to the press release, there are THOUSANDS of ad supported movies.  I count about 2600 (easily distracted and lacking basic math skills; Vudu counts a season of a television series as one entry in the catalog.).  The catalog includes a lot of familiar titles.
I've watched two movies — one on a Roku 2 XS and one on a Channel Master DVR+.  Both experiences were excellent — no buffering, synch issues, or restarts.  Ads come in bunches of three 13-30s commercials with about 18 minutes between ads.  Sometimes the ads started in the middle of a movie scene, but there were no problems with the same ad running over and over (common with ad supported streams).  Programming is unedited, but Vudu has parental controls.
All in all, this is a very welcome addition to the free TV offerings and worthy of your consideration…